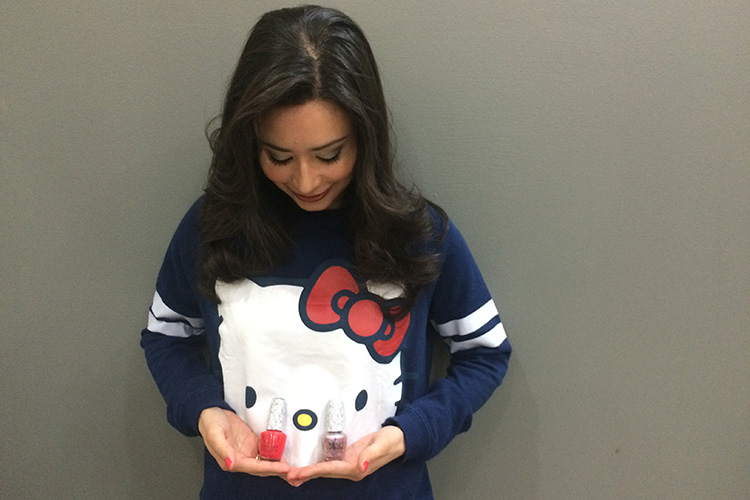 Desde que supe que venía esta colección, ¡me emocioné! En opinión es la más dulce y tierna que OPI ha sacado hasta el momento. Prácticamente todas las mujeres hemos tenido en algún punto de nuestras vidas un artículo de Hello Kitty. La gatita creada por Sanrio, una compañía japonesa, ha sido un éxito en todo el mundo desde que fue lanzado su primer producto en 1974.
Como se han podido dar cuenta, OPI siempre va de la mano con las marcas estrellas para inspirar sus lacas de uñas. En esta ocasión lo hace nuevamente lanzando una colección de 12 esmaltes de edición limitada inspirados en Hello Kitty.
Además, para las que como yo son amantes del GelColor, podrán encontrar todos los colores en este tipo de esmalte de larga duración. Son colores tiernos, con muchos rosas, otros primarios como el amarillo, azul y rojo, tonos brillantes y hasta un negro. Estoy segura de que como a mí, les va a fascinar y se van a querer llevar todos los esmaltes.
Esta colección de edición limitada ya está disponible en todos los OPI NAIL BAR del país.
Les dejo la lista de colores en el orden que están en la imagen y las invito a que me cuenten cuál es su favorito.
My Twin Mimmy
This sunny yellow is twice as nice.
Spoken from the Heart
I have deep feelings for this pretty coral.
Small + Cute = ♥
Do the math…this baby pink is perfect.
Let's Be Friends!
This cotton-candy pink is my new bestie.
Charmmy & Sugar
Sparkly pink for pretty pets.
Super Cute in Pink
The pinker, the better.
Kitty White
Pearl-of-a-girl white.
Look at My Bow!
This sweet-girl pink sits right at the top.
Starry-eyed for Dear Daniel
You will just love this fun pink super-glitter.
Never Have Too Mani Friends!
Let's "ink" a date for our next manicure!
Spoken from the Heart
I have deep feelings for this pretty coral.
My Pal Joey
This true blue is always there for you.
5 Apples Tall
This apple red really measures up.
Yo elegí 5 Apples Tall y Charmmy & Sugar.
¡Gracias por sus comentarios!
Hair & Makeup: Soho Salón
Sweater (old): Forever 21