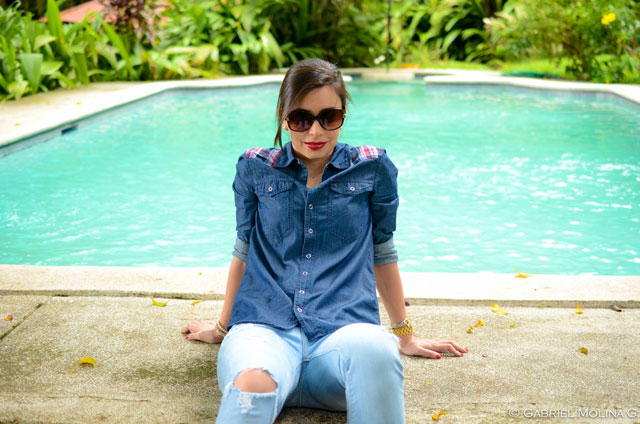 Poco a poco me van a ir conociendo y se van a dar cuenta de que soy fan de los looks frescos y relajados. Este conjunto moría por postearlo desde hace días. Disfruté tanto la sesión. Tengo al mejor fotógrafo. Ya pronto van a conocer más de él. La luz estaba perfecta y los colores se ven intensos. Me encanta el detalle de la blusa en los hombros: cuadros rojos, azules y blancos. Los zapatos son un match perfecto. ¿Qué decir de mis ripped jeans? ¡Los amo! ¿Qué opinan del look?
Para mis fans de facebook vamos a rifar una sesión de fotos gracias a GM Photography en octubre. ¡Pendiente!
Gradually you will get to know me. You will realize that I am a fan of the fresh and relax looks. I was dying to post this outfit for days. I enjoyed the session so much. I have the best photographer. You will soon know more about him. The light was perfect and the colors look intense. I love the detail of the shirt at the shoulders: red, blue and white squares. The shoes are a perfect match. What about my ripped jeans? I love them! What do you think of the look?
I was wearing:
Blouse: Forever21
Riped Jeans: Zara
Shoes: Old Navy
Bag: LongChamp
Photos: Gabriel Molina, GM Photography
Tel: 7910-3275
E-mail: gabriel@gabrielmolinag.com