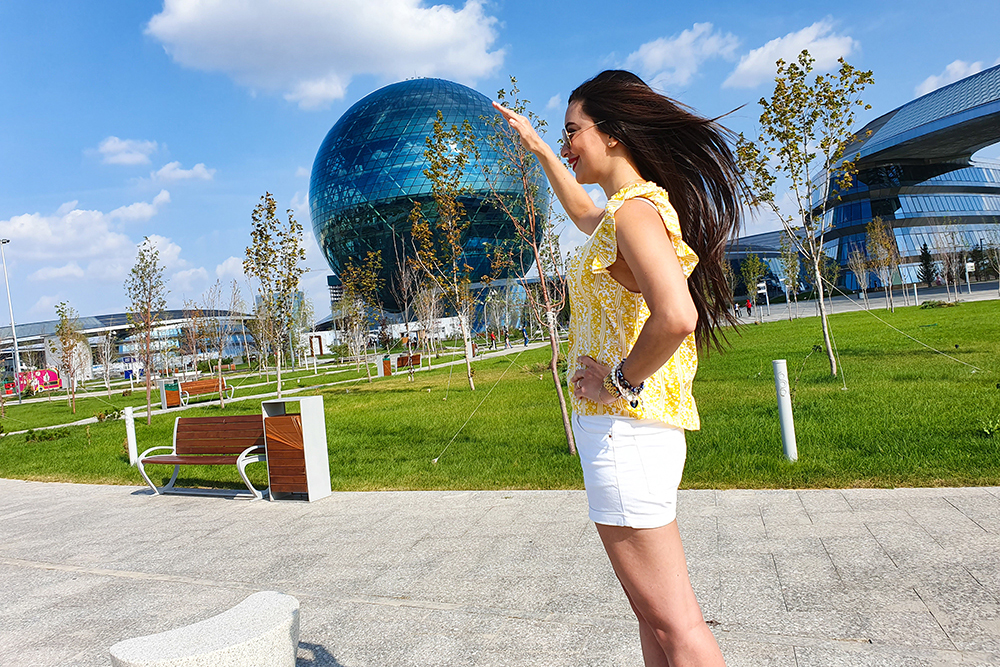 Nur Alem es laconstrucción esférica más grande del mundo con 80 metros de diámetro. Ésta fue construida como símbolo de la Expo Astaná 2017, bajo el lema "Energía del Futuro". La "esfera", como la llaman coloquialmente, era el pabellón de Kazajistán. Alrededor de ésta, hay muchos más edificios, donde los demás países tuvieron sus exposiciones.
Actualmente el pabellón Nur-Alem es un museo dedicado a las energías renovables, y puede ser visitado todos los días. En cada uno de los 8 pisos que lo componen, se pueden observar diferentes tipos de energía. En otro post se los mostraré por dentro.
Toda el área donde se celebró la Expo Astaná 2017 está cubierta por diferentes estructuras modernas y edificios, que podrán ver en las fotografías. No me canso de decirlo: Nur-Sultán es una ciudad del futuro.
Espero les guste. Gracias por sus comentarios.
Nur Alem is the world's largest spherical-shaped building with 80 meters in diameter. It was built as a symbol of the Astana Expo 2017, under the slogan «Energy of the Future«. The «sphere», as people call it colloquially, was Kazakhstan's pavilion. Around it, there are many more buildings, where the other countries had their exhibitions.
Currently the Nur-Alem Pavilion is a museum dedicated to renewable energies, and can be visited every day. In each of its 8 floors, one can see different types of energy. In another post I will show you its interior.
The entire area where the Astana 2017 Expo was held is covered by different modern structures and buildings, which you can see in the photographs. I don't get tire of saying it: Nur-Sultan is a city of the future.
I hope you like it. Thanks for your comments.
I was wearing:
Shirt: Forever21
Shorts: Forever21