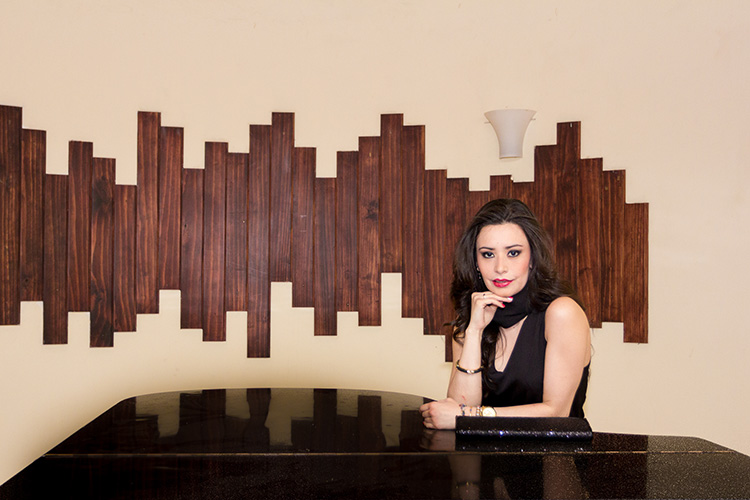 Hello! Hello! Wow! It is already mid February. And that means… the most romantic month of the year. And even though I have been very sick and I just got out of the hospital, I could not post for all of you who are the heart of this project. I loved the pictures that we took with Alvaro and result was amazing. He's a great photographer. But now comes the most important part of this post. If you don't have your outfit for tomorrow, I recommend you to go to Papaya's Trending. They have beautiful dresses for every occasion. This time I decided myself for this dress. It is so unique. You can see it has this amazing neck at the top with a little neckline. It makes it look sexy, but completely a lady. Besides it has pockets in both sides, which I find very helpful…at least for me because I am always carrying on many stuff, like keys, my cellphone, etc. The final touch for this outfit is given by this Anne Klein pointed toe heel that you can find in Peep Shoe Outlet. They are so beautiful und girly with an animal print that makes them one of a kind. I hope you like it. Thanks for your comments.
I really wish a beautiful Valentine's Days and every single day. Give love to all the people that you can. Valentine's day is about love and that doesn't include just a couple. You can give love to your parents, friends, or anyone that passes in front of you and seems to be needing love. You can make a difference. Happy Valentines Day with all my heart! And I appreciate as much as you can't imagine all the love that you give to me. Thank you for that!
---
¡Hola! ¡Hola! ¡Wow! Ya estamos a mediados de febrero. Y eso significa … el mes más romántico del año. Y a pesar de que he estado muy enferma y acabo de salir del hospital, no pude no publicar para todos ustedes que son el corazón de este proyecto. Me encantaron las fotos que  tomamos con Alvaro y el resultado fue sorprendente. Es un gran fotógrafo. Pero ahora viene lo más importante de este post. Si todavía no tienes tu vestuario para mañana, te recomiendo que vayas a Papaya's Trending. Tienen hermosos vestidos para cada ocasión. Esta vez me decidí por este vestido. Es tan único. Ustedes pueden ver el hermoso cuello que tiene en la parte superior con un poco de escote. Esto hace que se verán atractivas, pero completamente una dama. Además cuenta con bolsillos en ambos lados que yo encuentro muy útiles… al menos para mí que siempre llevo algo en la mano, coma llaves, mi teléfono móvil, etc. El toque final para este look es dado por unos pointed toe heel de Anne Klein y que pueden encontrar en Peeps Shoe Outlet. Son tan lindos y  femeninos con animal print que los hace ver únicos en su clase. Espero que les guste. Gracias por tus comentarios.
Realmente les deseo un feliz día de San Valentín y el resto de sus días. Den amor a todas las personas que puedan. El  día de San Valentín es sobre el amor y eso no incluye sólo una pareja. Pueden dar amor a sus padres, amigos y a toda persona que pase por su camino y parezca necesitar amor. Tu puedes hacer la diferencia. ¡Feliz  Día de San Valentín con todo mi corazón! Y aprecio como no se imaginan todo el amor que me dan. ¡Muchas gracias!
I was wearing:
Dress: Papapa's Trending
Shoes: Peeps Shoe Outlet
Clutch: Forever21
Hair & Make up: Soho Salón
Nails: OPI Nail Bar San Salvador

Photos: Alvaro Rosales Studio